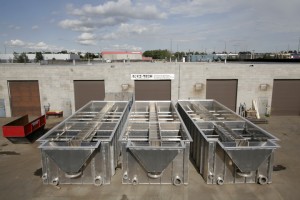 We have been actively welding Aluminum since the company's inception in 1985. Aero-Tech is certified by the Canadian Welding Bureau to CSA-W47.2 (Certification of Companies for Fusion Welding of Aluminum).
Aero-Tech provides services in every area of the aluminum welding process. As a certified welding company, and one of the largest independent consumers of aluminum in Western Canada, we cover services in all aluminum-welding areas.
Capabilities:
Our buying power – since Aero-Tech is a large-scale aluminum buyer, we get savings for our purchases. Our clients also benefit from our savings.
We are aluminium fabricators – Aero-Tech buys a lot of raw material, which needs to be processed, and we are specialized to do it all. Our teams can cut, bent and assemble aluminum for the construction of various products.
Welding aluminum – welding aluminum is a difficult process, yet needed for the projects of many industries.
Fast results – with a long record of excellence in welding aluminum, Aero-Tech delivers within tight deadlines.
Flexibility – as one of the leading aluminium fabricators, we are able to create flexible solutions for any welding job.
Professionalism – our professional and experienced teams handle multiple tasks by employing correct techniques for the welding aluminum processes.
With both GTAW & GMAW welding processes available, there are very few aluminum jobs that we cannot accommodate.