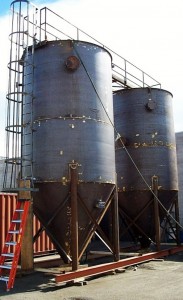 Welding aluminum, welding stainless steel, and welding carbon steel are some of the top performing services that Aero-Tech offers. Our certification by the Canadian Welding Bureau for Fusion Welding of Steel, acknowledges the excellence and professionalism of our steel welding services. Our high quality welding services and custom fabrications allow us to deliver quality products in fast and efficient manner. At first glance, our customers profit from:
Wide range of welding procedures available for a wide variety of materials
Custom fabrication of carbon steel, stainless steel, and aluminum, among others
Variety of uniquely tailored welding solutions
Cooperation with our clients to advance the field with new and innovative welding procedures
Cutting-edge welding technology
Years of welding experience and highly trained professionals.
Innovation
With a great variety of welding procedures and a trained team of experts, Aero-Tech is ready to finish any project. Different industries demand different projects and Aero-Tech is on the front line to satisfy those demands. We have evolved our practices to work with the customers in order to achieve the desired results. Via custom fabrication, Aero-Tech develops a complete line of materials to complete welding operations on any project.
Custom fabrications
Carbon steel welding is a fundamental procedure in most industries. For example:
Carbon steel rings for pipelines development in the oil and gas industry
Carbon steel strips for application in the medical industry
Carbon steel manipulation for variety of items in the electronics industry
At Aero-Tech we achieves a high level of diversity because we cooperate with our customers to develop appropriate welding techniques. Custom fabrication delivers the most suitable materials so professional teams can weld them. Constant development in industrial fabrication and welding procedures gives Aero-Tech a sharp advantage over most competitors.