Industrial fabrication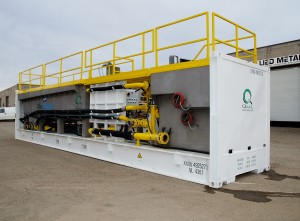 Years of experience in the field has made Aero-Tech a leading industrial metal fabricator. The availability of wide range of industrial materials allows Aero-Tech to be a part of every stage of our customers' projects. We can effectively manage:
The design assistance stage
Manufacturing stage
Coordination of trades
The final assembly
By using us for the complete project management, our clients benefit from our:
Competitive pricing – Aero-Tech is involved in the industrial fabrication of various materials, thus we are able to offer lower prices to our customers.
Efficient deliveries – As an industrial metal fabricators, we have every material short at hand and we are able to speed up the completion and delivery of products.
Process packaging & skid fabrication
Alongside being an industrial metal fabricator, Aero-Tech delivers complete skid fabrication. We assist with various processes among which are:
Industrial fabrication – we provide custom fabrication of stainless and carbon steel, among others.
Sandblasting, paining and coatings – our teams can sandblast and paint any needed parts of the project.
Electrical operations
Plumbing procedures
Insulation
Non Destructive examination
Provide and maintain engineering requirements
Computer aided designs