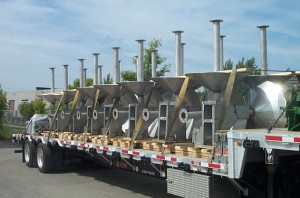 Many years of practice and extensive experience in welding stainless steel, among other materials, has enabled us to take on any stainless steel welding project.
Aero-Tech has been certified by the Canadian Welding Bureau to CSA-W47.1 (Certification of Companies for the Fusion Welding of Steel) as recognition for our safety and product management.
Our services include anything from custom stainless steel fabrication, to the stainless steel welding. All in accordance to our clients' needs and requirements, we offer:
Professional and fast completion of a wide range of stainless steel welding.
Development and execution of welding stainless steel to the precise instructions and unique demands of the project.
FCAW, GTAW and GMAW stainless steel welding procedures
Stainless steel fabricators
In order to meet the demands of different industries, Aero-Tech is a specialized stainless steel fabricator. Developing custom stainless steel solutions for every client allows us to maintain our high quality and standard in the field.
As a steel fabricator, Aero-Tech can support custom stainless steel material to complete unique projects.
Due to our role as a steel fabricator, we have the material at hand at all times. Therefore, we can work within any deadlines.
By using Aero-Tech as a stainless steel fabricator and using our stainless steel welding services, our clients can have our high quality operations in more than one area of their project.
The role of stainless steel fabricator gives us the edge to develop, improve and complete multiple welding challenges. We maintain impeccable quality throughout our operations and guarantee our clients satisfaction for every stainless steel welding job.